CUSTOM SOLUTION FOR YOUR PROJECT
MFS provides a wide catalog of motion systems from 2DOF to 6DOF motion platforms and beyond.
Customization of a motion platform may be necessary when off-the-shelf solutions cannot meet the specific requirements of a simulation or training application, when there are constraints on size or performance, or when the platform needs to be integrated with existing systems.
EXAMPLES OF APPLICATIONS WHERE A CUSTOM SOLUTION MIGHT BE NEEDED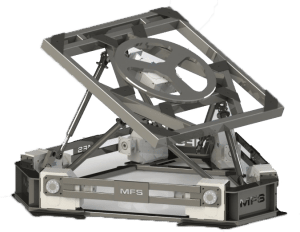 MFS CAN DESIGN AND BUILD A MOTION SYSTEM MEETING YOUR PROJECT REQUIREMENTS
Our team of engineers can design motion systems that suits your exact specifications without weight or size limitation.
Our motion systems are the ideal solution for demanding customers looking for a smooth, trouble free and lasting system operation with minimal maintenance or operation hidden costs.
Once you tell us about your project, our engineers will start working on a concept with programs such as solidworks, autocad, inventor as well as our in house developed softwares.
A FEW EXAMPLES OF CUSTOM PROJECTS
This illustration showcases a custom-designed and built upper platform by our company, This platform was created for a research and development project, where the customer required a 6DOF landing deck to test drone autolanding and takeoff capabilities in various sea states. The platform is used to mimic sea motion, enabling land-based testing that eliminates the need for costly and time-consuming sea trials, with the goal of improving drone technology.
Additionally, the whole system can be anchored on a moving truck, simulating the movement of a boat and providing even more realistic testing conditions. Furthermore, the motion platform can be designed in a foldable way to allow for easy transportation, making it a versatile solution for companies looking to test and improve their drone technology in various locations. The cabin seen on the extension was added for the safety of the operator and is reinforced to withstand an impact from the drone, ensuring that the operator is protected during testing procedures.
By precisely replicating the movements and vibrations of a boat at sea, motion platforms can help counteract the unpredictable motion of the sea and ensure the stability of the drone during landing and takeoff, even in challenging conditions. By effectively cancelling out the motion of the sea, motion platforms provide a safer and more reliable landing and takeoff solution for drones.
A 6DOF with the following specifications
1. A low neutral position for R&D purposes
Goal being to allow customer to easily switch under development motorbikes
2. A lot more of the surge DOF
This axis is used for the simulation of acceleration
3. A payload of 500 kgs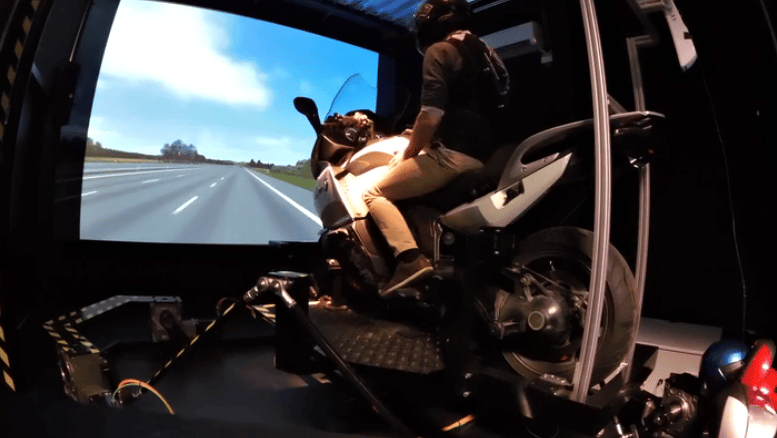 The customer was looking for a tank simulator for live events with the following requirements:
1. Installation for live event (easy to dissemble and relocate)
2. Open-backed tank turret, easy to get in and out of
3 . Chair within the upper platform
4. Triple monitor wrap, cockpit desk
The customer was looking for a high performance 3 DOF to operate in a confine space
1. Sea container stabilizer
2. Restricted space in the belly of a smalls cale tanker
3. Operation within a cube with sides of 80 cm
Our engineers came up with the original idea to place the motorblocks the way you see them on the picture.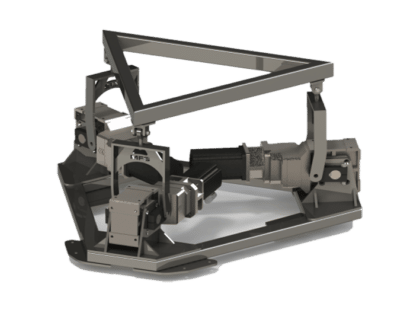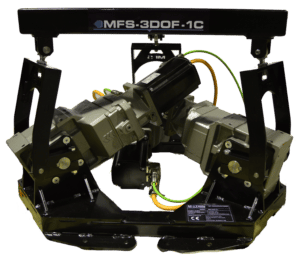 The customer was looking for a highly customized 6DOF motion platform able to operate within a low ceiling room
1. Installation for live event (easy to dissemble and relocate)
2. Low ceiling operation possible
3. Non-stop operation for 12 hours
4. Maximum safety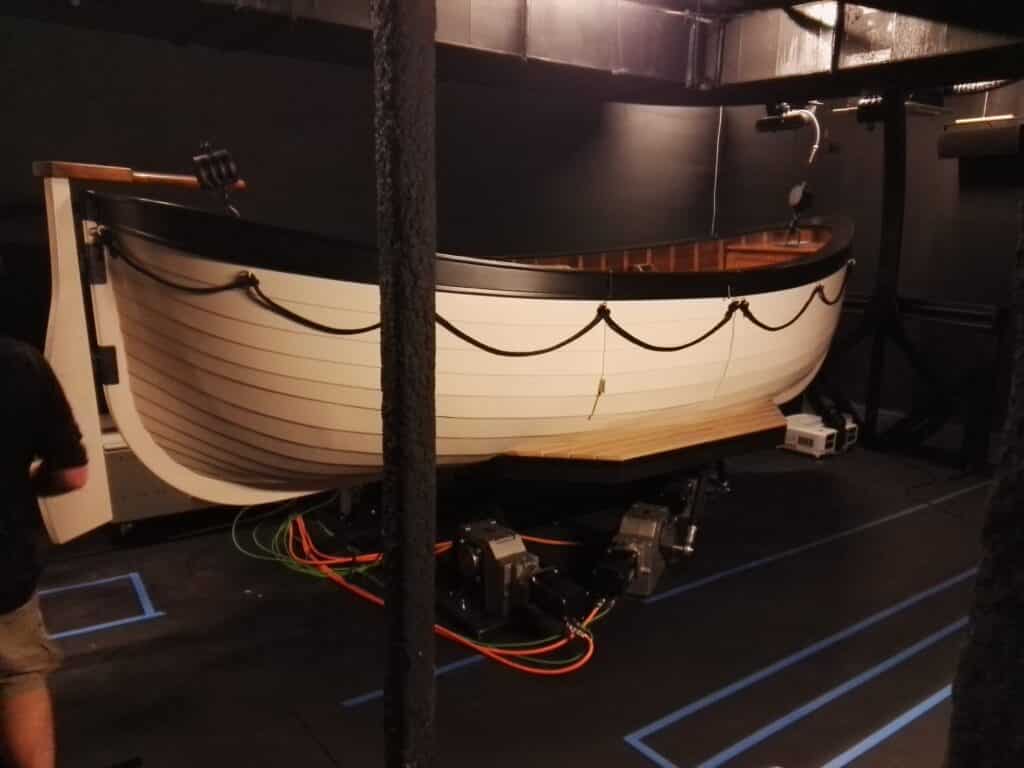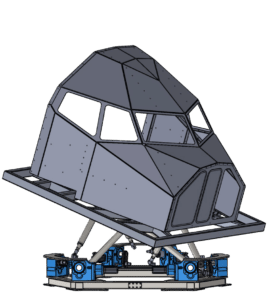 B737NG simulator within an penthouse in NYC
1. Available space 360 cm x 360 cm x 360 cm
2. 220° FOV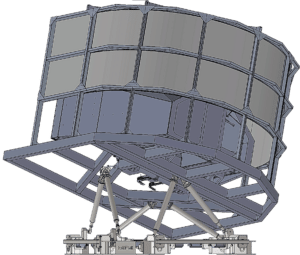 B737 CLASSIC simulator in a Swiss Basement
1. Available space 360 cm x 360 cm x 360 cm
2. 220° FOV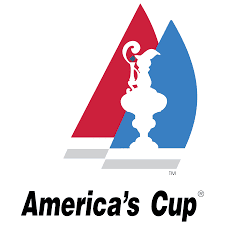 TRAIN SAILORS ON THE GO WITHIN A CONTAINER
Our customer needed a 6DOF motion platform that would be able to operate within a container without any collisions (width 230 cm)