MFS STANDARD & CUSTOMIZED PERFORMANCES
With our 6DOF systems, we can control any axis we want, individually or combined, such that you can even control the location of the center of rotation of your sensor.
MFS can provide a wide range of possible excursions, velocities and accelerations but there is always a trade-off to be applied.
At a glance, here is an order of magnitude about our standard Performances: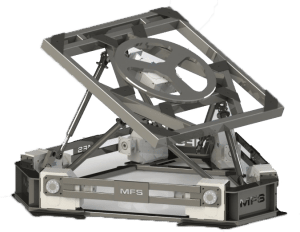 The combination of possible performances is a matter of compromise and depends from one situation to the other.
Custom projects we've designed outreach those standard values with:
Get In-Depth Knowledge: Access our comprehensive GENERAL INFORMATION documentation for a deeper understanding of our systems