DYNAMIC LANDING DECK FOR DRONES MOUNTED ON MOTION PLATFORMS
DRONES ARE PLAYING AN INCREASINGLY IMPORTANT ROLE IN CIVILIAN AND MILITARY APPLICATIONS. AS THE USE OF DRONES CONTINUES TO GROW, THE NEED FOR RELIABLE LANDING AND TAKEOFF SYSTEMS BECOMES MORE CRITICAL.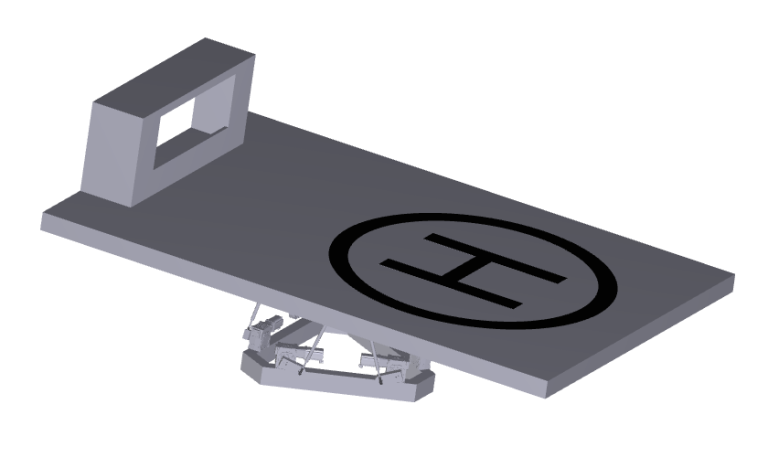 THIS IS WHERE MOTION PLATFORMS COME IN.
Motion platforms play a vital role in drone operations by providing a solution for safe and reliable landing and takeoff.
They do so in two key ways:
1, Motion platforms can provide a solution for drone landing and takeoff by simulating sea conditions that the drones may encounter in the field. By replicating the movements of a boat at sea, motion platforms can help during the developing phase of the auto landing and auto takeoff capabilities of the drones allowing testing in various sea states without the need to ever leave the R&D facility. Not only does the motion platform mimic the motion of the sea, but it can also be anchored on a moving truck to simulate the movement of a boat for even more realistic testing conditions.
2, Motion platforms can also be used to compensate the motion of the sea. By precisely replicating the movements of a boat at sea, motion platforms provide a safer and more reliable solution for drone landing and takeoff, even in challenging conditions. By effectively cancelling out the unpredictable motion of the sea, these platforms help ensure the stability of the drone during the critical landing and takeoff phases.
DESIGNING A MOTION PLATFORM & UPPER PLATFORM TO COPE WITH THE IMPACT OF THE LANDING
When designing a drone landing deck for a motion platform, there are several factors to consider, including the size of the upper platform. The upper platform can be small or large, but it must be designed in such a way that the landing area can handle the impact of the drone. To determine the necessary size, materials, and structure of the platform, calculations must be made based on factors such as the drone's velocity, mass, and other factors.
In addition to the upper platform design, it is important to ensure that the rest of the motion platform is adapted to the specific requirements of the drone landing deck. This includes the size of the platform base, the materials used, and the motors that control the platform's movements.
If you are interested in learning more about our motion platform solutions for drone landing and takeoff testing, please contact us for a detailed discussion of your project needs.